Flax is a member of the genus Linum in the family Linaceae. It is native to the region extending from the eastern Mediterranean to India and was probably first domesticated in the Fertile Crescent. It is a rich source of

dietary fiber

.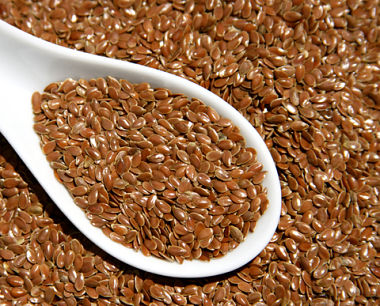 It has been found that it regulates the increase of lipids in the blood after a meal. It is causes more balanced rise and decrease in triglyceride levels thus controls the appetite of an individual. This might have a slimming effect for some people as the metabolic processes are slowed down thus the body require less energy.
The seeds contain a lot of protein too which makes this to be a very balanced and nutritious food. Just having a couple of spoons of flax seeds with any of your meal a day will provide you with essential nutrients you don't want to miss out. Regular intake of flax seeds might boost your metabolism, improve digestive health, lower cholesterol and possibly prevent many diseases alongside with having a balanced diet and exercise of course.
Some other facts of eating flax seeds
Balance the hunger and satiety feelings

Contribute to weight loss

Reduce cholesterol levels in blood

Prevent cardiovascular illnesses

Potentially prevent different cancers

Improve immunity

Protect the nervous system

Prevent osteoarthritis

Enhance brain functions

Might help against spasms and muscle pain

Contribute to treating hypertension

Protect skeletal system from degeneration

Boost metabolism

Improve general health
Courtesy : http://www.benefitsofeating.com/flax-seeds/
I got these flax seeds for my mother from Natural mantra. Actually she is suffering from poly cystic ovary problem. In a television program a doctor suggested that eating these flax seeds will help the ladies suffering from pre menopause and post menopause ladies a lot.
Promotes bone strength

Reduce the risk of colon cancer and relieves gastro intestinal problem

Stabilizes blood sugar vessels in diabetic patients.

Reduces the risk of asthma, arthritis and heart diseases.
Many brands are available in that I chose 24letter Mantra.