Today am going to review about a product which I craved for a long time.. Here it goes Maybelline Colorama Astral which is perfect base coat for French manicure.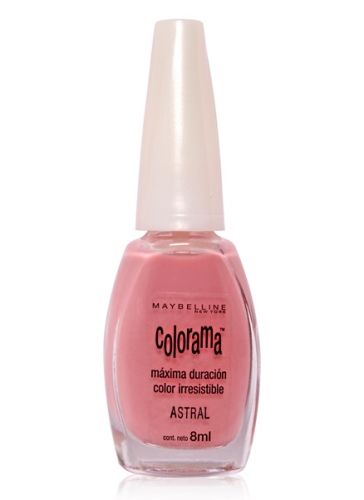 Maybelline Colorama Astral
In the whole blogosphere and in the Google I always use to conclude my shopping list by searching a perfect base for my French manicure .While browsing in peaches & blush I came to know about this Nail paint review. Yahooooo!!.. I found out my base coat..
This is actually a mild rose color which makes our nails look more natural. After applying 1 coat I feel that, my nails look more professional and neat.
I even use them in my legs, which gives my foot an appealing pinkish look. It doesn't have much shining material, which acts as a perfect base coat.
If more than one coat s applied then it will turn to a rosy – white color, So French manicure lovers go for only one 1 coat..
It cost 95 INR and I bought it from goodlife.com, Currently this is the one online shop which has Maybelline Colorama Astral more in quantity.
It stays in my nails for more than a week. It doesn't create any problem with chipping or tearing.
So At last I found out the perfect base cost..
Here goes the pics & Swatches.
Since it is very mild pink in color my camera is not picking the colors properly.
Maybelline Colorama Astral